Toddler Care in Colorado Springs
TODDLERS
In our toddler rooms we provide learning experiences for children from 12 months to 2 ½ years old. Whether it's learning to talk, learning to share, or potty training; our toddler program strives to meet the needs of each toddler in our care. All learning takes place in age specific classrooms where teachers provide a loving, stimulating setting.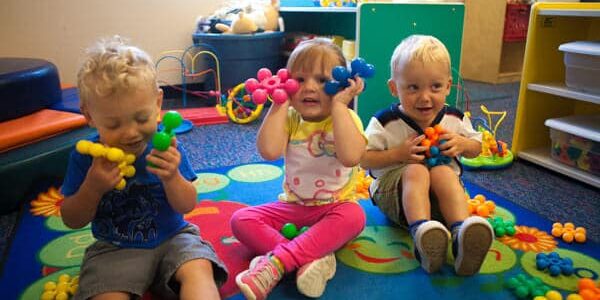 Daily communications between parents and teachers through daily activity reports
Rich play experience that is designed to provide social, cognitive, and physical development
Developmentally appropriate and challenging lessons every day using our custom-designed curriculum
Daily outdoor play to help children develop important social skills, self esteem and large motor skills
Early Sign Language to encourage language development
Daily learning and activities including creative arts, dramatic play, colors, shapes, language, and sensory exploration
Enroll your child in a learning-rich and fun program they will enjoy day after day. Sunshine Learning Center is a certified Colorado Springs daycare center with years of experience. Give us a call today.